All human beings are capable of regenerating and "healing.*"
Healers work to recreate the positive stream of energy in the body so the body's ow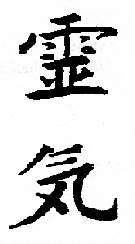 n healing powers can be activated.
Reiki healing is a special therapeutic touch or laying-of-hands technique which originated in Japan. The system of channeling universal spiritual energy also known as Chi, Ki, Prana, Mana and many other names. It involves a balancing of the chakras, in many cases, and is based on a holistic system which heals and overall harmonizes the body, mind, emotional wellbeing and spirit. It is an experience which tends to improve ones own outlook on life and prepare the way for a better functioning future.
As a Reiki Energy Healer and Independent Reiki Master in the Usui Tradition, I personally like to use healing music and therapeutic scents such as Essential Oils or the Auro-Soma Quintessences. These aromas can be particularly effective as the scents activate the olfactory nerve which is linked with the limbic system, the emotional center of the brain. Often during a healing, there will be messages channeled for the wellbeing of the client.
Combine Reiki with traditional medical treatment:
Reiki is a gentle complementary treatment form and can help to create peace of mind, soothe anxiety and help a seriously ill patient become more receptive to traditional medical treatment. It is often recommended and/ or provided as a complementary technique to heart patients and cancer patients in hospitals, medical clinics and hospices. You can read more about this on the website www.reikiinhospitals.org.
Distance healings are also offered. Talk with me privately about this situation.
*Note: using the term "healing" should not be confused with the curing of an illness. "Healing" can be defined as helping to return to the experience of balance and wellness.
A treatment session lasts about 60 minutes and costs $80 plus tax. The price of Distance Healings is $50 plus tax. Reiki for children is $50 plus tax and lasts approximately 30 minutes. A parent will need to be present during a healing for a child under age 18.
Other prices may be negotiated according to circumstances and/or the addition of other forms of treatment. I recommend clients who will do a first-time Guided Past Life Regression to start with a Reiki Healing in order to open channels for a more fruitful first Regression. Talk with me about a package price.