Myofascial pain syndromes are often manageable through the use of neuromuscular massage techniques.
These techniques are usually combined with traditional craniosacral and therapeutic massage techniques. This type of treatment session helps to alleviate symptoms of muscle dysfunction.
Neuromuscular techniques can be viewed as gentle trigger point therapy often combined with acupressure meridians and points.
This unique form of treating was first developed by Janet G. Travell, MD. and David G. Simons, MD. The principal of treatment is based upon dysfunctional motor endplates of skeletal muscle fibers. These are located at the myofascial points which can be the reason for pain, limited mobility, headaches, etc. The key is precision. Drs. Travell and Simons have mapped out more than 600 specific places with the muscles fascia. Therefore a knowledge of anatomy is important.
There is growing recognition of the relationship of these key points and somatic dysfunction.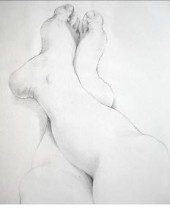 There is generally a structural component to most dysfunction or pain in the body.
Client complaints that originate in the musculoskeletal system usually have multiple causes responsible for the whole body's dysfunction. Gentle neuromuscular massage techniques can alleviate many symptoms associated with all sorts of limited mobility, pain or imbalances in the body.
Many doctors recognize that about 85% of back pain and shoulder pain is actually muscular or muscular related. What could even a minor alleviation of pain mean to your life? Clients who have suffered with chronic pain for years and years usually find themselves with better range of motion, and able to enjoy life on another level after a few of treatments.
As an aspect of the treatment, therapeutic/ medical massage is combined with neuromuscular techniques to support better muscle and nerve function and create a better sense of wellbeing.
Some of my clients are runners who experience muscular problems which inhibit or halt their workouts. Therapeutic leg treatments, combined with vitamin supplements, also have been beneficial to clients suffering with circulation problems and restless leg syndrome.
A one-hour treatment session costs $85 plus sales tax. A 30 minute treatment session costs $50.