Craniosacral therapy is especially well-suited to the treatment of children.
It is based on the absolute gentlest form of touch therapy and does not hurt at all. In the case of children, a very mild treatment often is all that is needed to help the body to correct itself in a holistic manner.
Children today may have a great deal of stress in their lives. That stress may be the reason for facial tics, anxiety or behavioral problems, hysterical fits, poor self confidence, stomachaches and headaches. In addition to these types of symptoms, Craniosacral therapy can be beneficial in treatment of some speech impediments, fidgeting, concentration problems, poor motor abilities, learning disabilities, and even bedwetting. Note: Though craniosacral therapy does not claim to "cure" these conditions or diseases but can have a surprising effect on symptoms, and there is more and more research being done and evidence on the benefits of this type of treatment especially in combination with other more traditional treatments.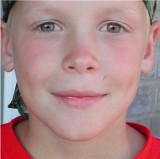 My experience is that children with ADHD, Tourettes, autism and Asberger often respond well to, for example, gentle cranial techniques which can stimulate the central nervous system, loosening sutures in the cranium, and increasing blood flow to the brain.
I tell parents to prepare their child for treatment by explaining that there will be a gentle tickling-massage of their heads. Treatment of the youngest children is in pleasant environment where one of the parents should be present and should participate in the session actively. Older children may wish the parent to be present (or not) but without active involvement.
I have several times experienced children's teachers informing parents of a noteworthy improvement in the children with behavioral problems and ADHD, without their knowing these children were getting treatment.
Children enjoy coming for treatment and can feel that it helps them. I have grown accustomed to children informing their parents when they feel it is time for an additional treatment.
Sports-related pain or motion limitations rooted in soft tissues:
I also treat teenagers with muscular problems which may be sports related, such as problems from overuse of a pitching arm and cramping. Craniosacral, combined with gentle neuromuscular techniques, is a treatment which can make the use of medication unnecessary. This is important because medication may give side effects or may for example, overtax a child's liver, gall bladder or kidneys, where toxins are processed.
Most recently, I successfully treated a teenager for shin splints. This young lady is on a volleyball scholarship at a nationally competitive school.
A treatment session for children under 16 lasts about 30 minutes and costs $45 plus tax. Price can be negotiated for multiple sessions. A parent must be present for a session of a child under 16 years.